Deletor - Delete and shred sensitive files
Deletor

Purpose
Advanced file eraser and shredder
Version
5.13
Package size
~5.64MB
Platforms
Windows 11/Server 2022 down to 7/2008 R2, 32/64-bit
End User license price
$19.95 (major upgrades: $12.95)

Prices in US dollars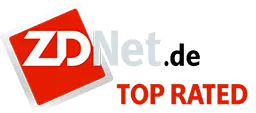 Deletor helps you reduce the clutter in your disks and other storage media by bulk deleting files and folders matching your criteria. The program can search multiple root folders and delete documents according to their tags, metadata, time, duration, size, attributes, name and name patterns including wildcards.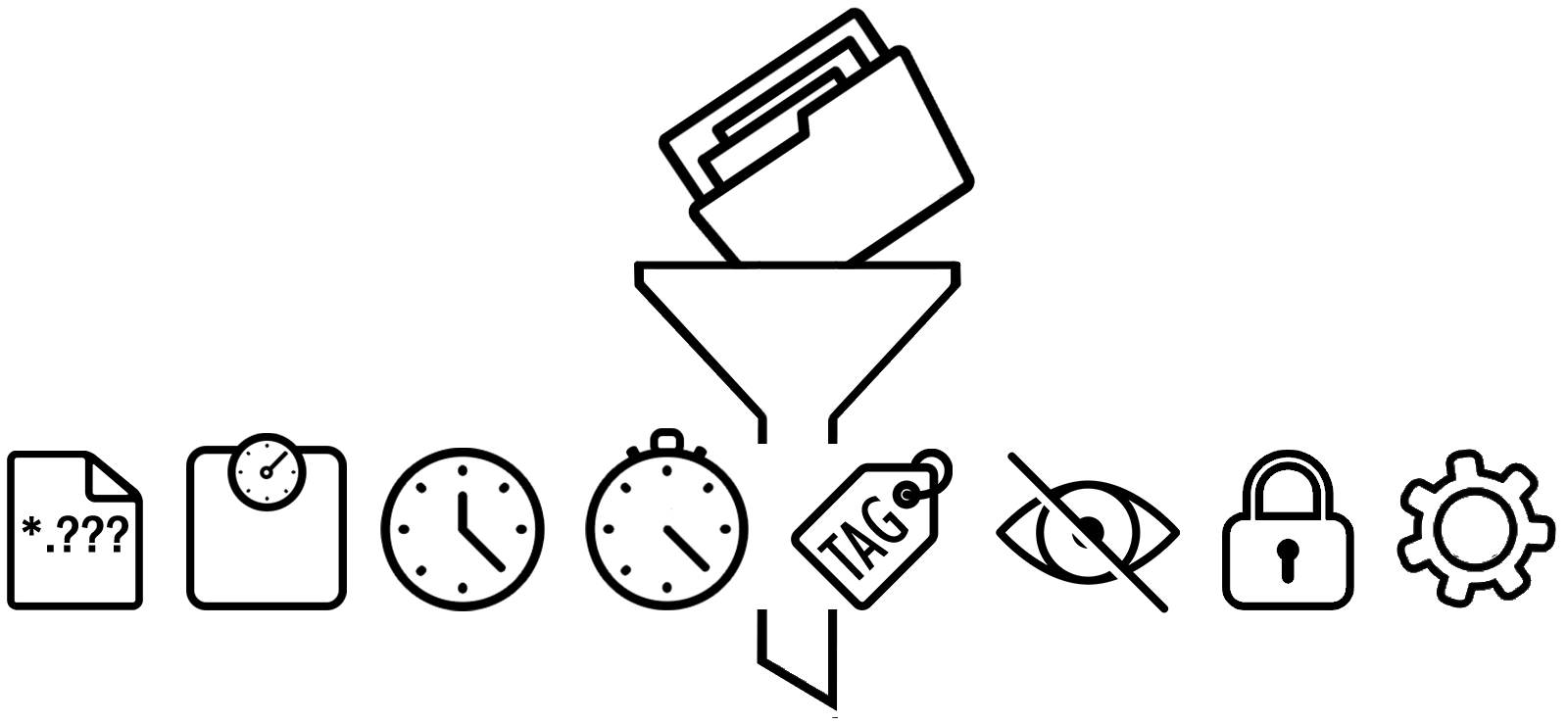 A shredding feature is also available to wipe sensitive files securely and permanently, making them virtually impossible to recover. Shredding methods include the U.S. Department of Defense standard DoD 5220.22-M. Plus, Deletor breaks the infamous 4GB barrier to let you shred files of virtually any size.

Deletor supports filter packs to help you organize commonly used deletion specifications and quickly recall them by name. A log feature is also included to report operation progress and details in a window or a file. You can also preview operations to verify your settings and collect statistics such as the number of deleted files and the amount of recovered disk space.

In addition to the graphical user interface (GUI), a command line interface (CLI) is also available to easily automate cleaning tasks by running Deletor in the foreground or background using batch files, shortcuts, scripts and schedulers.

The user interface of Deletor feels crowded by design. Since the app deletes files, all filters are visible and grouped in the main window to help you see exactly what you are doing before hitting that Delete button. Note that a Preview button is also available to stage operations and collect statistics.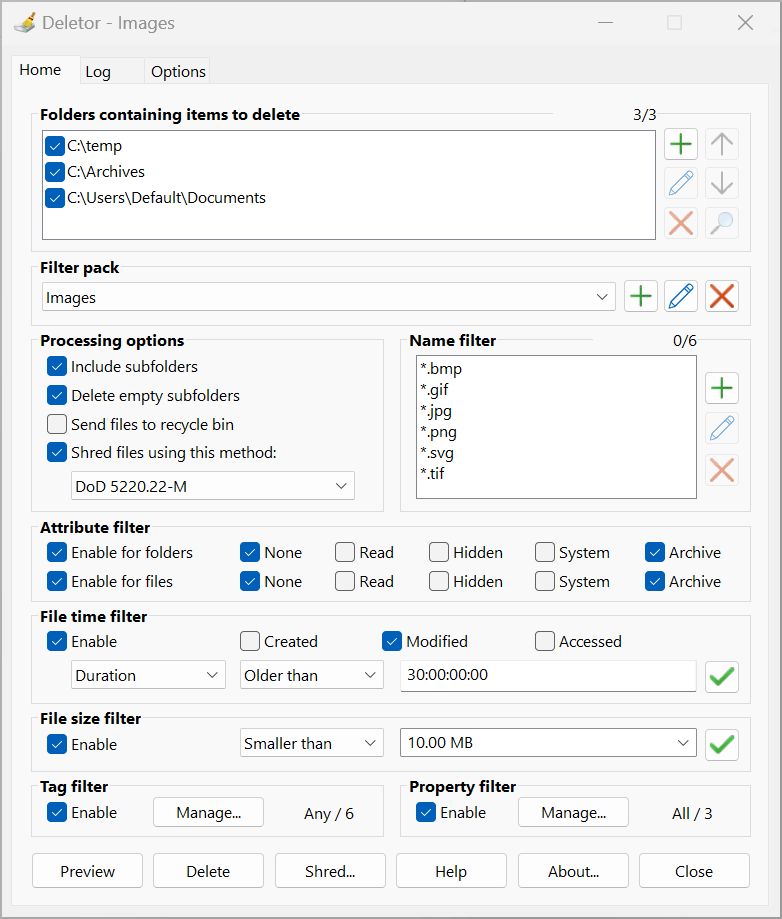 Home window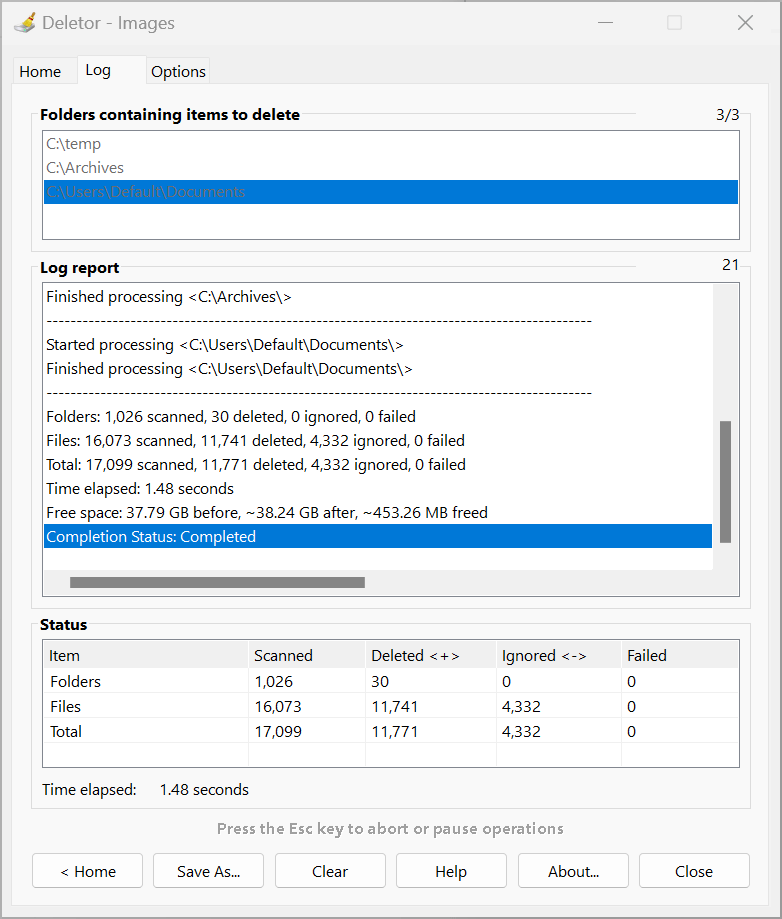 Log window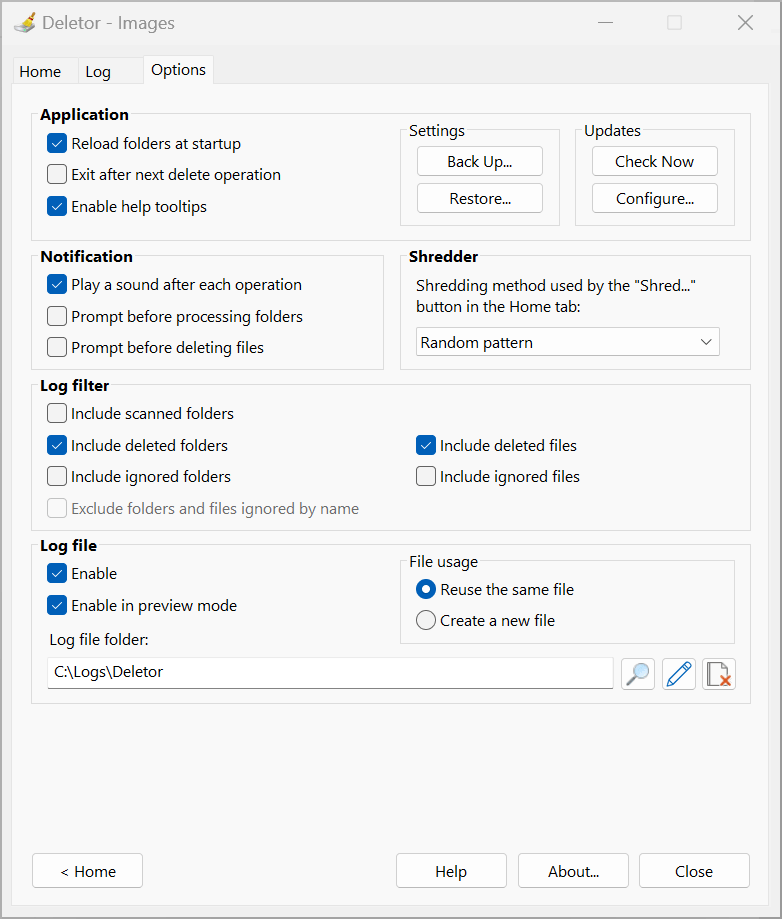 Options window
Shred sensitive documents to prevent their recovery.
Shred files larger than 4GB.
Shredding methods include the U.S. Department of Defense standard

DoD 5220.22-M

.
Purge multiple parent folders in a single operation.
Filter items by name, tags, metadata, extended properties, time, duration, size and attributes.
Save and recall deletion profiles and filter packs.
Remove empty folders.
Use the command line interface to create shortcuts, batch files, scripts, and scheduler operations.
Preview operations and amount of disk space to be freed.
Log operations to screen and file.
Select files and folders using drag and drop.
Version 5.13 on 2023-06-27
Performed stability and performance improvements.
Discontinued Windows Vista and Server 2008 R1 compatibility to take advantage of newer Windows features. You can download v5.10 to run Deletor on Windows Vista/Server 2008 R1. The new minimum is Windows 7/Server 2008 R2.
Version 5.10 on 2021-03-12
Added and optimized shredding methods.
Version 5.0 on 2020-03-19
Added extended file property filtering to select files by metadata including tags and file details.
Added the command line option /DelEmptyRoot to delete empty root folders and its DelEmptyRootDir counterpart in the Deletor.ini file. Consequently, options to delete empty subfolders no longer apply to the root folder.
Normalized error handling when the root folder doesn't exist. Now, the error message is logged instead of being displayed and disrupting scripts and batch processes.
Added a backup feature to save and restore application settings.
Added to the Confirm window an option to remember the answer and stop confirming.
Fixed a condition causing the log window to freeze during lengthy operations.
Added a log option to suppress items ignored by the name filter.
Modified the log behavior to precede files with the folder containing them.
Upgraded the user interface and help guide.
Discontinued Windows XP and Server 2003 compatibility to take advantage of newer Windows features. You can download v4.48 to run Deletor on Windows XP/2003. The new minimum is Windows Vista and Server 2008.
This version includes major enhancements. Licensees using older versions of Deletor can upgrade to 5.0 at a discounted price, or free of charge if the licenses where purchased within 30 days of this release date.
Version 4.48 on 2018-09-10
Accommodated the Windows 10 Improved Boot Up Experience feature.
Version 4.45 on 2015-09-22
Version 4.42 on 2013-06-25
Updated the software for Windows XP/2003 backward compatibility.
Version 4.41 on 2013-05-24
Resolved installer issues on 32-bit platforms.
Version 4.4 on 2012-12-07
Updated the software for Windows 8 compatibility.
Version 4.3 on 2011-08-20
Added a configurable updater to keep the program up-to-date.
Improved the installer.
Version 4.2 on 2010-11-15
Redesigned the confirmation window to include more information and options.
Fixed a bug in the name filter.
Version 4.1 on 2010-10-01
Added an option to shred files according to the Clear and Sanitize Matrix requirements of the Department of Defense standard DoD 5220.22-M.
Version 4.0 on 2010-09-07
Updated the software for Windows 7 compatibility.
Created a 64-bit version of the software and updated the installer to include both 32-bit and 64-bit versions. The installer will automatically select the version matching your system.
Added file size filtering to include files that are smaller, equal or larger than a given size.
Added file time comparison operators to file time filtering.
Added the option to turn attribute filtering off.
Added log filtering and eliminated log size limitations found in earlier versions.
Added log file support.
Added operation progress information including elapsed time and relevant counters.
Added audio notification to signal operation completion.
Improved program performance significantly.
Overhauled the user interface.
Overhauled the help guide and added the option to turn tooltips off.
Licensees using older versions of the product can upgrade to this major update at a discounted price.
v3.1 on 2005-11-05
Added folder inclusion support to name filtering. Before, all subfolders were processed unless specifically excluded. Now, you can process specific subfolders and ignore the others.
v3.0 on 2004-05-11
Added multiple folder processing. Added file and folder exclusion support to name filtering. Added individual attribute file and folder filtering. Added individual time property filtering. Extended filter packs to include all filters. Overhauled the graphical user interface, the command line interface, and the help system. Moved user settings from the registry to an ini file for easier portability. Added support for Windows XP features. Added support for regional settings. Added support for multiple users. Disabled file and folder deletion confirmation with /AutoDelete. Discontinued Windows 95 and NT compatibility. Upgrading to this major update requires a licensing fee for existing customers who are licensed to use older versions.
v2.7 on 2001-07-28
Added folder attribute filtering.
v2.6 on 2000-02-03
Added support to shred manually selected files.
v2.5 on 1999-09-14
Added file shredding support to prevent the recovery of sensitive documents.
v2.22 on 1999-07-10
Added a command line parameter to hide Deletor while it is running.
v2.21 on 1999-06-30
Made the time in the date filter optional and fixed a bug preventing the processing of very long command line arguments.
v2.2a on 1999-03-03
Fixed a bug causing file scanning to stop prematurely when a folder with security attributes was encountered.
v2.2 on 1998-11-23
Added time duration filtering, folder attributes filtering, and command line access to the time filter.
v2.1 on 1998-07-30
Added folder removal and fixed log display.
v2.0 on 1998-05-20
Added filter packs, command line access and time filtering.
v1.7 on 1997-06-22
Updated installation procedure and package info.
v1.6 on 1996-11-13
v1.0 on 1996-06-01
The following older versions are available to licensees for downloading:
---