Rasputin - Avoid Internet connection timeouts
Rasputin

Purpose
Internet connection keeper
Version
3.30
Package size
~3.63MB
Platforms
Windows 11/Server 2022 down to Vista, 32/64-bit
End User license price
$12.95 (major upgrades: $7.95)

Prices in US dollars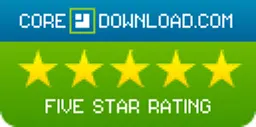 Many Internet Service Providers (ISP) close your Internet connection when they detect a lack of network activity from your computer for a certain amount of time. The more connections are available, the more customers can connect… For instance, you may get disconnected while browsing a web site if you spend too much time reading a web page, or while away from the computer preparing a cup of tea. You must then reconnect your computer in order to continue your Internet session.
Rasputin avoids Internet connection idling and timeouts by simulating random network activity to keep your connection alive. Rasputin is very simple to use and works discreetly in the background.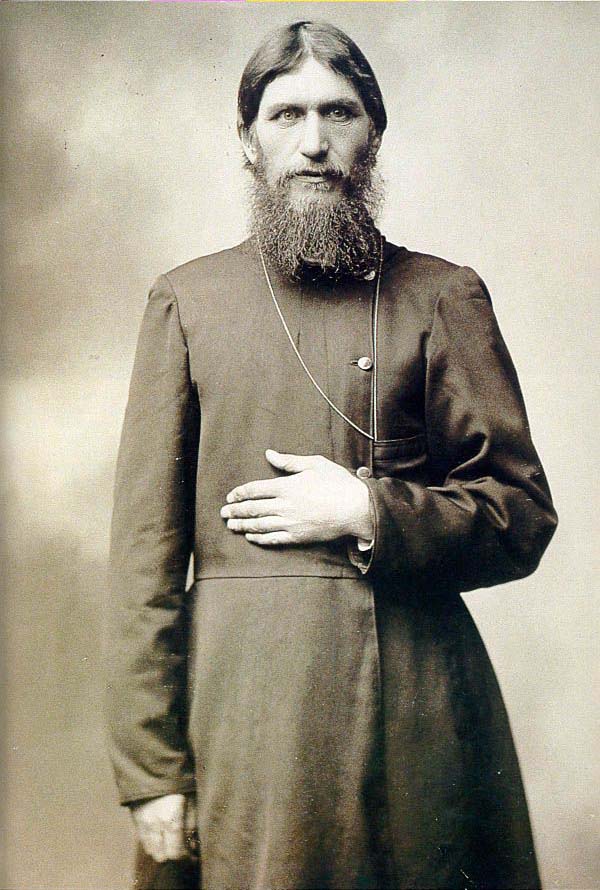 In case you're curious about the product name Rasputin, it is inspired by the 19th century Russian monk who had survived several attempts on his life, just as this software should help you survive ISP attempts to close your connection. Moreover, RAS refers to Remote Access Service, which is the Windows service used to connect your computer to the Internet.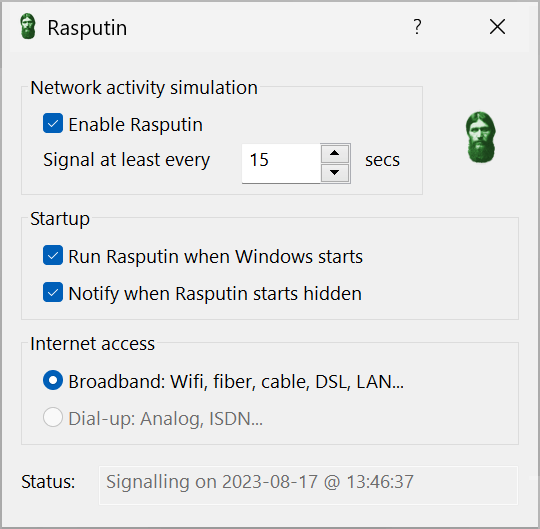 Main window

Sends random data at irregular intervals to minimize detection.
Sends tiny data packets to minimize consumption.
Simple and easy interface.
Works in the background and doesn't waste desktop space.
Version 3.30 on 2021-09-07
Updated the taskbar notification area icon interface.
Version 3.29 on 2020-05-20
Maintenance release.
Discontinued Windows XP and Server 2003 compatibility to take advantage of newer Windows features. You can download v3.28 to run Rasputin on Windows XP/2003. The new minimum is Windows Vista and Server 2008.
Version 3.28 on 2018-03-27
Version 3.25 on 2015-09-22
Version 3.22 on 2013-06-25
Updated the software for Windows XP/2003 backward compatibility.
Version 3.21 on 2013-05-21
Resolved installer issues on 32-bit platforms.
Version 3.2 on 2012-12-05
Updated the software for Windows 8 compatibility.
v3.1 on 2011-08-30
Updated the handling of the taskbar notification area icon.
Updated the installer.
v3.0 on 2009-09-20
Updated the software for Windows 7 compatibility.
Created a 64-bit version of the software and updated the installer to include both 32-bit and 64-bit versions. The installer will automatically select the version matching your system.
Enhanced the user interface and added an option to suppress the startup notification message.
Upgrading to this major update v3.0 requires a licensing fee for existing customers who are licensed to use older versions.
v2.0 on 2007-11-15
Improved the effectiveness of the network activity simulator.
Added an option to start Rasputin automatically when a user logs on.
Updated the software to comply with Vista requirements. Previously, the program and its installer ran on Vista in compatibility mode. Now, they run on Vista in native mode, comply with UAC and other Vista technologies, and are digitally signed with an Authenticode certificate to ensure their integrity and authenticity. These major enhancements provide a better and safer experience when running the software on all supported Windows versions.
Redesigned the application to use the Unicode standard and improve its Windows integration and multilingual support.
Redesigned the installer to use Microsoft MSI technology and comply with recent Windows guidelines.
Upgrading to this major update v2.0 requires a licensing fee for existing customers who are licensed to use older versions.
v1.6 on 2002-08-29
Added support for Windows XP visual styles, multiple monitors, and regional settings.
v1.5 on 2000-03-15
Improved the effectiveness of the signal. There is no need to upgrade if the previous version is working correctly.
v1.4 on 1999-02-16
Added an option for Windows Dial-Up Networking (DUN) users to automatically disable signaling while not connected.
v1.3 on 1997-06-22
Updated installation procedure and package information.
v1.2 on 1997-03-03
Randomized the signal frequency.
v1.1 on 1997-02-19
Saved settings before rebooting, and remembered window visibility.
v1.0 on 1997-01-26
The following older versions are available to licensees for downloading:
---