Splitty - Split large files and join them later
Splitty

Purpose
File Splitter and Joiner
Version
5.20
Package size
~3.87MB
Platforms
Windows 11/Server 2022 down to Vista, 32/64-bit
End User license price
$19.95 (major upgrades: $12.95)

Prices in US dollars



Files have been growing in size at an impressive rate. Between movies, music, presentations and databases, we often find ourselves struggling to transfer or back up large files.
Splitty enables you to reliably divide large files into smaller manageable files that can be easily transferred over the Internet, or stored on DVDs, CDs, USB flash drives and other modest storage media. You can recombine the smaller files later to recreate the original large files.

Splitty is not just another file splitter, it has been optimized for performance, security, and reliability. Splitty uses a checksum algorithm to ensure data integrity and breaks the 4GB barrier to let you split files of virtually any size.
A self-extracting feature is also included to facilitate the distribution of split files and recover the original file without Splitty.

Drag the files you want to split from Explorer and drop them onto Splitty, then click on the split button and leave the rest to Splitty.
---

SplittyLite is a special edition of Splitty with a reduced feature set:
SplittyLite is freeware
SplittyLite doesn't split files, it only merges files divided by Splitty
SplittyLite doesn't require installation
SplittyLite doesn't store configuration data on your system
A copy of SplittyLite is included in the Splitty package but you can also download it here: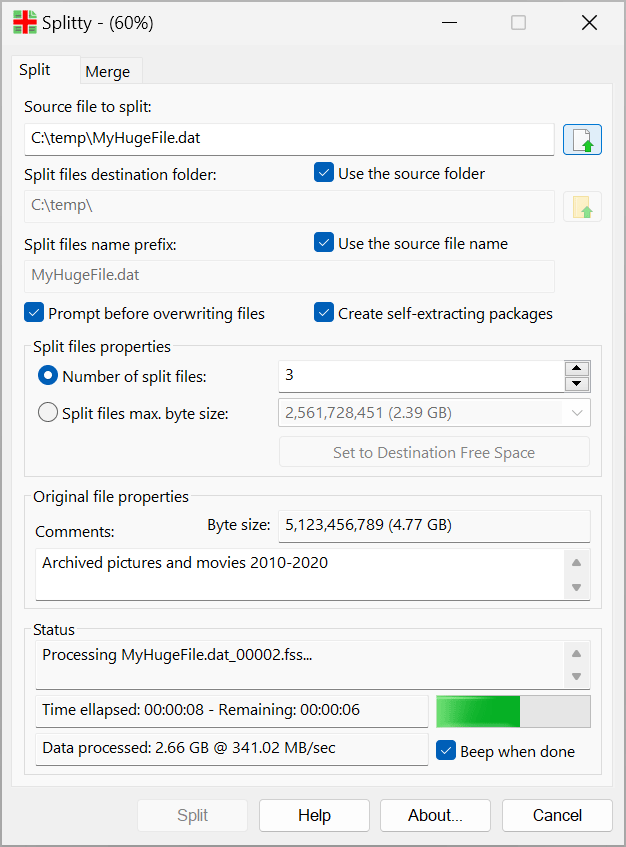 File splitter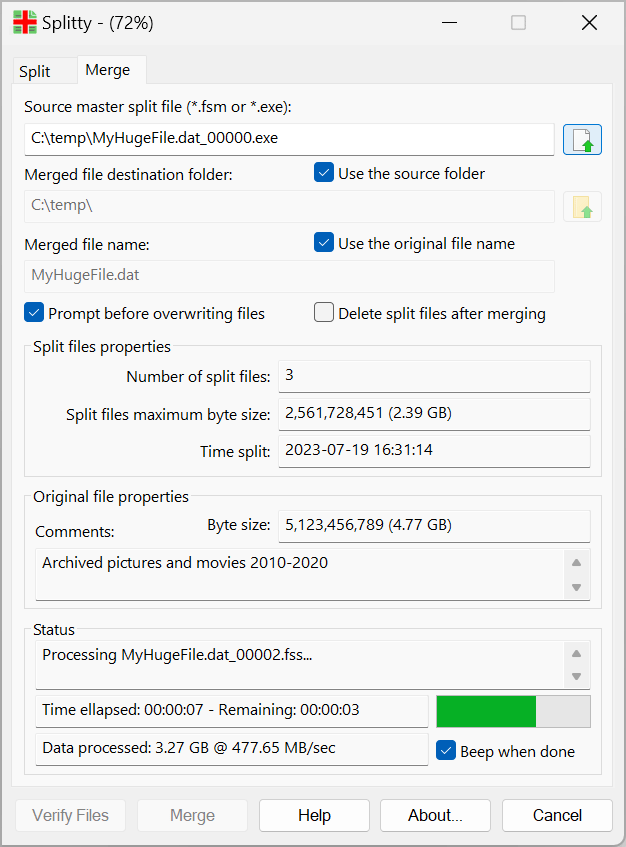 File combiner
Supports files up to 100GB.
Can generate self-extracting split files.
Can attach user comments to split files.
Protects against data corruption with built-in data validation.
Lets you easily verify data integrity in split files.
Network-enabled.
Supports removable media.
Displays operation statistics.
Has a friendly user interface with drag and drop support.
Includes a complete help guide.
Version 5.20 on 2020-05-22
Updated the user interface and help guide including better display scaling support.
Discontinued Windows XP and Server 2003 compatibility to take advantage of newer Windows features. You can download v5.15 to run Splitty on Windows XP/2003. The new minimum is Windows Vista and Server 2008.
Version 5.15 on 2015-09-21
Version 5.12 on 2013-06-25
Updated the software for Windows XP/2003 backward compatibility.
Version 5.11 on 2013-05-28
Resolved installer issues on 32-bit platforms.
Version 5.1 on 2012-12-21
Updated the software for Windows 8 compatibility.
Version 5.0 on 2011-10-16
Updated the software for Windows 7 compatibility.
Created a 64-bit version of the software and updated the installer to include both 32-bit and 64-bit versions. The installer will automatically select the version matching your system.
Redesigned the installer to use Microsoft MSI technology and comply with recent Windows guidelines.
Discontinued Windows 2000 compatibility to take better advantage of new Windows features.
Licensees using older versions of the product can upgrade to this major update at a discounted price.
Version 4.0 on 2009-02-16
Increased the file size limit that Splitty can split from 4GB to 1TB.
Added the option to beep when operations lasting more than 15 seconds are completed.
Added time and data progress reporting.
Overhauled the help guide.
Updated the software to comply with Vista requirements. Previously, the program and its installer ran on Vista in compatibility mode. Now, they run on Vista in native mode, comply with UAC and other Vista technologies, and are digitally signed with an Authenticode certificate to ensure their integrity and authenticity. These major enhancements provide a better and safer experience when running the software on all supported Windows versions.
Redesigned the application to use the Unicode standard and improve its Windows integration and multilingual support.
Redesigned the installer to use Microsoft MSI technology and comply with recent Windows guidelines.
Discontinued Windows 98 and Me compatibility to take better advantage of new Windows features.
Upgrading to this major update requires a licensing fee for existing customers who are licensed to use older versions.
v3.0 on 2003-03-11
Added support for Windows XP features, the ability to split files by number of split files, and context-sensitive help.
v2.1 on 2001-06-02
Added support for regional settings and changed the minimum Windows NT system requirement from v3.51 to v4.0.
v2.0 on 2001-05-15
Added an option to create self-extracting split files. These can be archived and distributed more easily because Splitty is not required to merge them back together.
v1.7 on 1998-11-13
Added the ability to set the size of split files to use all available disk space in the destination folder.
v1.6 on 1998-04-22
Enhanced the user interface for removable media, added support for disk partitions larger than 4GB where available (NT, 95-OSR2, or later), and other minor adjustments.
v1.51 on 1997-12-12
Now supports NT v3.51 and possibly earlier versions.
v1.5 on 1997-06-20
Added Install/Uninstall, support for floppy disk operations, split files verification, and enhanced data validation (although there haven't been any complaints).
v1.0 on 1997-01-26
The following older versions are available to licensees for downloading:
---