BastaPix
BastaPix

Purpose
Screen multi-capture tool
Version
1.20
Size
~5.33MB
Platforms
Windows 10/Server 2019 down to Vista, 32/64-bit
End User license price
$19.95 (major upgrades: $12.95)

Prices in US dollars
Reglo users: BastaPix has superseded Reglo. You can order a BastaPix upgrade for only $12.95 per license.
---
BastaPix is an integrated collection of screen tools including a magnifier, a gauge, a screen copier, a color picker, a desktop ruler and a clipboard viewer. The program is advanced enough to cover the needs of professional designers and simple enough to accommodate casual users.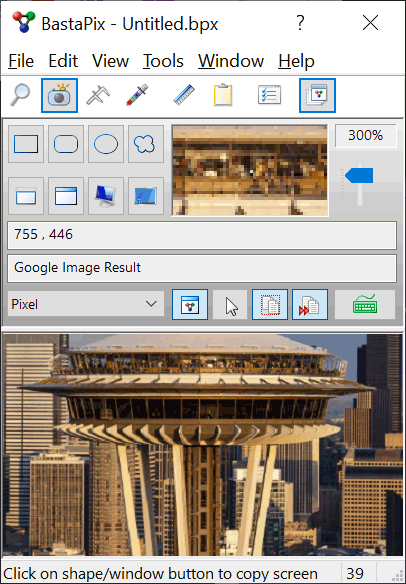 Use the magnifier to scrutinize portions of the desktop, the gauge to measure design elements and maps, the screen copier to capture areas of the desktop and copy them to the clipboard or save them to files, the color picker to copy the color of any pixel on the desktop and paste it into image editors or color schemes, the ruler as a guide to align or measure objects on the screen, and the clipboard viewer to monitor data transiting through the clipboard.
BastaPix features include multi-shape screen capture with or without the cursor, multi-shape object measurement, color picking, editing and reporting, document management, hot key access and much more. The program supports many units, color representations and file formats in addition to clipboard, file and web browser data export.
BastaPix runs anchored in the system tray so you can keep it hidden while you focus on your work and bring it up instantly when you need it.
A rich feature set coupled with an efficient interface make BastaPix the perfect tool to put your work together better and faster. A must-have app for web and graphic designers, engineers, hobbyists or anyone fiddling with images, plans or maps.
Spend a few minutes trying BastaPix and save many hours using it!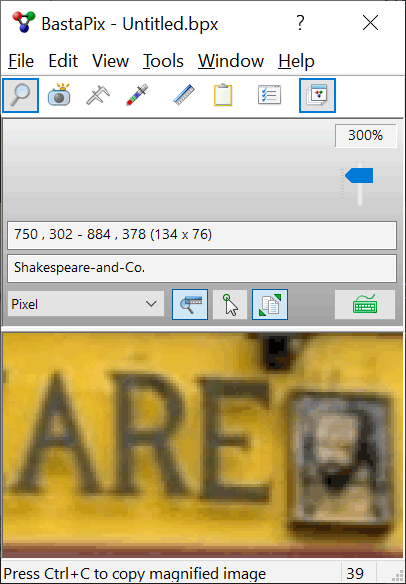 Magnifier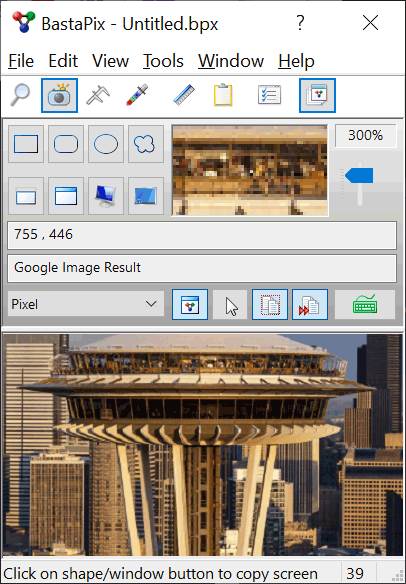 Screen Copier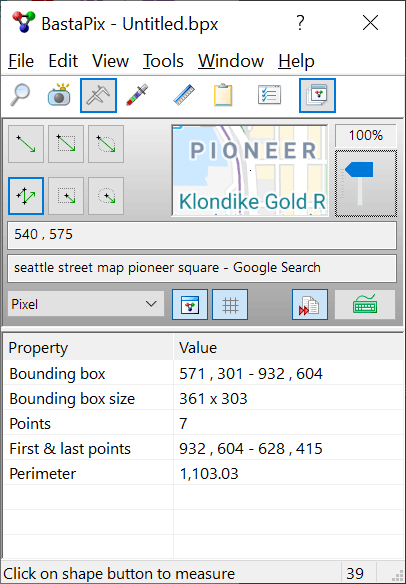 Measuring Tool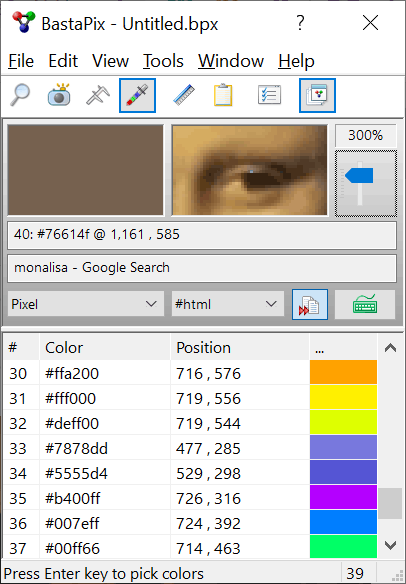 Color Picker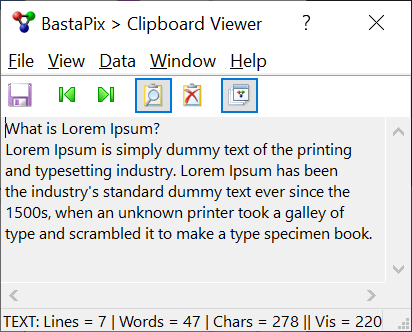 Clipboard Viewer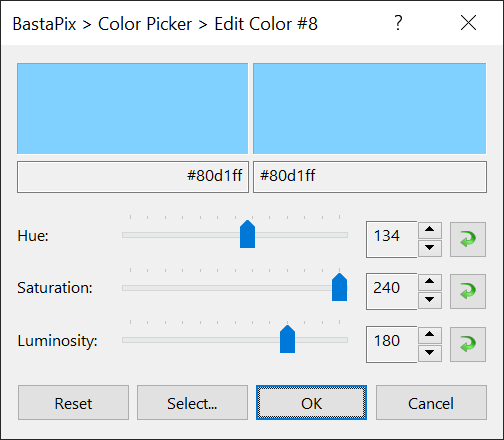 Color Editor

Desktop Ruler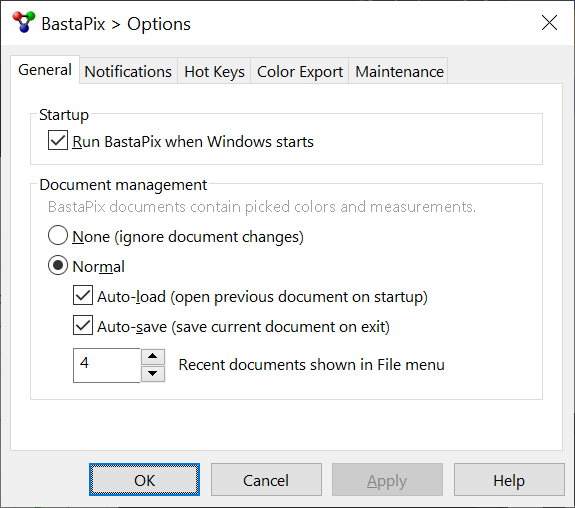 Options - General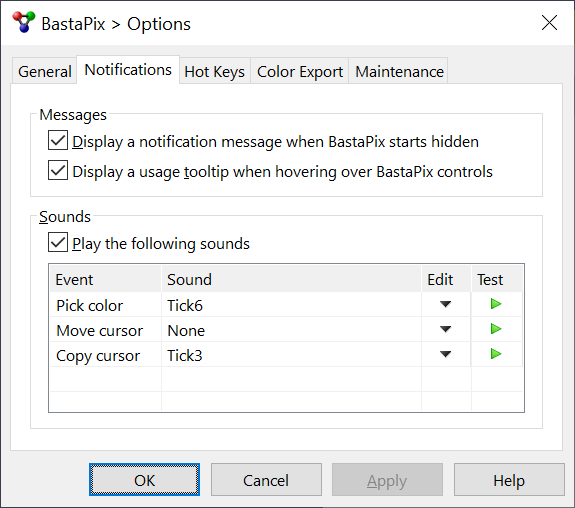 Options - Notifications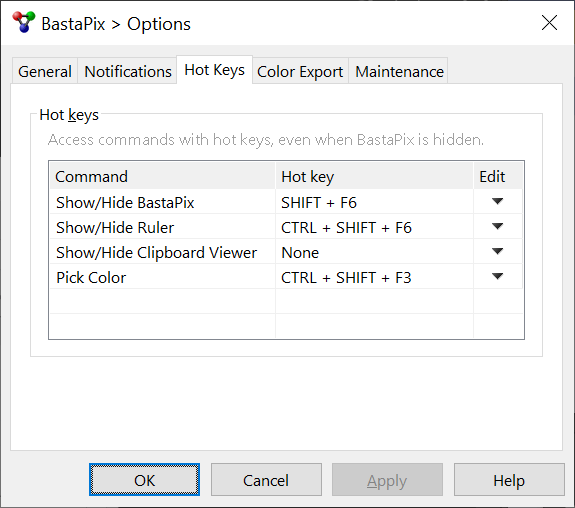 Options - Hot Keys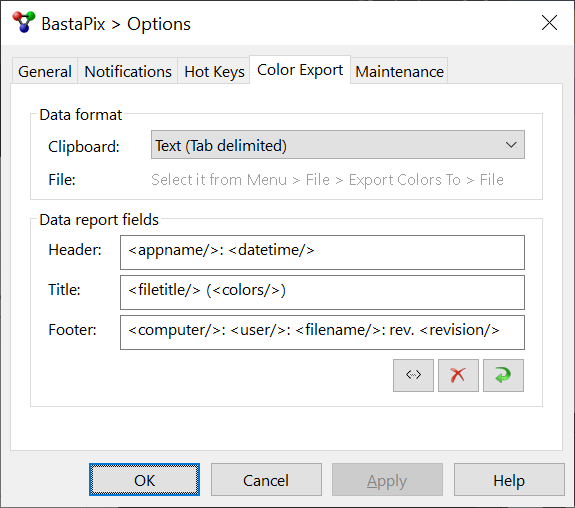 Options - Color Export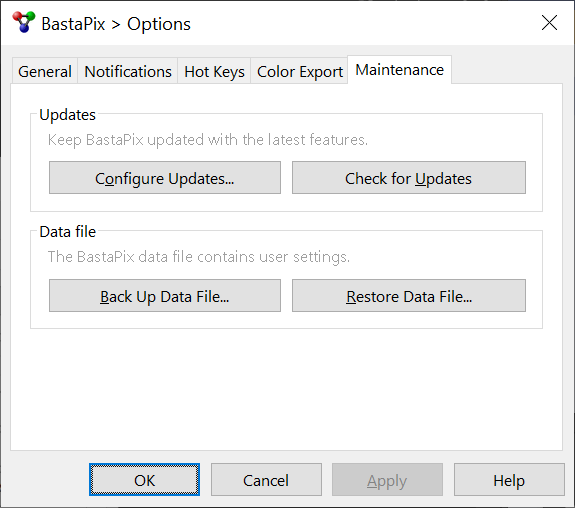 Options - Maintenance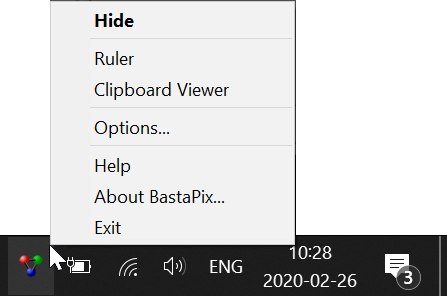 Taskbar Notification Area Icon
Screen capture in many shapes and forms, with or without the cursor.
Screen measurement in many shapes and forms.
Color picker with copy, edit, save, export, preview and print functions.
Magnifier with copy and save functions.
Ruler to align and measure items on the desktop.
Clipboard viewer to monitor the clipboard in real time.
Hot keys to access features instantly.
Data formats: TXT, CSV, HTML, XML, BMP, JPG, GIF, TIF, PNG.
Color formats: RGB, HTML, HSL, HSV, CYMK.
Measurement units: Pixel, Pica, Point, Twip, Centimeter, Inch, Dialog, Dialog Base.
Version 1.20 on 2020-02-26
Fixed capture issues on external monitors.
Eliminated Windows artifacts such as shadows in window captures.
Added client window screen capture.
Fixed the Window > Arrange command when the ruler is in vertical position.
Converted the HTML export filter to HTML5.
Updated the user interface and help guide.
Discontinued Windows XP and Server 2003 compatibility to take advantage of newer Windows features. You can download v1.18 to run BastaPix on Windows XP/2003. The new minimum is Windows Vista and Server 2008.
Version 1.18 on 2018-04-05
Accommodated the Windows 10 Improved Boot Up Experience feature.
Version 1.17 on 2016-09-16
Added RGB 0-1 color format.
Version 1.16 on 2016-07-26
Added lower case hexadecimal color format.
Version 1.15 on 2015-08-18
Version 1.13 on 2013-10-11
Fixed a bug that occasionally caused the Export Image function to hang.
Version 1.12 on 2013-06-25
Updated the software for Windows XP/2003 backward compatibility.
Version 1.11 on 2013-05-16
Resolved installer issues on 32-bit platforms.
Version 1.1 on 2012-12-17
Updated the software for Windows 8 compatibility.
Version 1.0 on 2011-07-04
The following older versions are available to licensees for downloading:
---