Reglo - Windows desktop ruler
Reglo

Purpose
Windows desktop ruler
Version
3.5a
Package size
~0.38MB
Platforms
Windows XP/2000/NT4.0/Me/98/95
End User license price
$15.00 (major upgrades: $0.00)

Prices in US dollars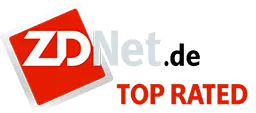 Reglo is a versatile on-screen ruler that is perfect for designers, artists, webmasters, and anyone else who needs to handle graphics. In addition to supporting many different units of measurement, orientations, and ruler scales, Reglo has a wealth of handy features to make your job a lot easier.
Pinpoint accuracy is one of the reasons that Reglo is so useful. Reglo features a ruler guide, a magnifier, and one-keystroke positioning to the exact spot where the cursor is sitting. The image that is displayed in the magnifier can be copied to the clipboard for quick icon and graphics captures. Reglo also includes a color picker that enables you to look up and copy the color of any pixel on the desktop. Colors can also be displayed in a variety of commonly used formats.
With Reglo, you can make sure that your design fits where it should. The window-sizing tool allows you to change the size of other application windows so you can see how they will look on different screen resolutions, without having to switch to them.
Reglo can display the position, distance, angle, and color of the pixel under the mouse pointer. Position and distance values are shown in the selected unit of measurement and can simultaneously be translated to pixels.
On top of all that, Reglo puts an icon in the taskbar status area that can be used to show or hide the ruler at any time. This means that Reglo takes up very little space on your desktop when you're not using it, but it's still ready to use the instant you need it.
You will wonder how you worked without Reglo for so long.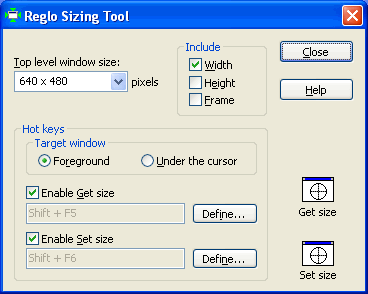 Practical window re-sizing tool to simulate other desktop resolutions.
Screen capture, color picker and desktop magnifier included.
Customizable cursor status text makes cursor tracking easy.
Scalable ruler and magnifier.
Horizontal and vertical orientation.
Distance and angle measurements.
Many units including pixel, point, twip, metric, English and dialog.
Can stay on top of other windows.
v3.5a on 2003-08-05
Suppressed inaccurate error messages related to the hot key feature.
v3.5 on 2002-09-08
Added Windows XP visual styles support. Added web safe color filtering. Added a keyboard shortcut to copy the caption bar text to the clipboard. Added Auto-preview mode to the custom scaling dialog boxes. Added sub-100% magnification to increase screen capturing surface.
v3.2 on 2001-09-20
Added dynamic calibration to dialog units and recalibration of the ruler whenever its orientation changes. Added an option to exclude the Reglo button from the task bar.
v3.1 on 2001-07-17
Added support for regional settings.
v3.0a on 2001-02-19
Fixed a v3.0 bug causing the distance to always be displayed in pixels instead of the current unit.
v3.0 on 2000-12-08
Added a color picker.
v2.7 on 1999-07-16
Added hot key support to the window sizing tool.
v2.6 on 1998-08-31
Added color customization and angle measurement.
v2.5 on 1998-05-08
Added a magnifier, screen capture, and distance display.
v2.41 on 1998-04-27
Added pixel translation to the ruler's caption.
v2.4 on 1998-01-15
Added support to toggle the visibility of the sizing border and resize the ruler using the keyboard; made the guide visibility and the sizing tool option sticky; eliminated the 100% CPU usage artifact.
v2.3 on 1997-06-22
Updated installation procedure and package information, and made the sizing tool dialog modeless.
v2.1 on 1997-03-12
Enhanced the Sizing Tool.
v2.0 on 1997-02-19
Major overhaul.
v1.8 on 1996-12-03
Added a cursor guide and acceleration keys.
v1.7 on 1996-11-13
Tuned the window re-sizing feature.
v1.61 on 1996-11-03
Added shrinking to scaling. Changed the scaling UI.
v1.6 on 1996-11-01
Added scaling. Added support to resize other application windows.
v1.0 on 1996-09-01
Published the initial release.
The following older versions are available to licensees for downloading:
---